Hundreds of tons of ammunition, tanks, and new mercenaries from Russia: Tymchuk told about the new addition to the "L/DNI"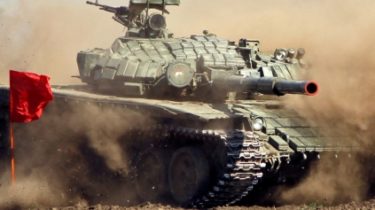 In the last week from 7 February to 14 February in the occupied territory of Donetsk and Lugansk regions arrived replenishment of parts and units "of the 1 St of AK DNR" and "2nd AK LC".
So, through the checkpoints Dolzhansky, dmytrivka, Izvarino, Maximov "L/DNR" arrived equipment, ammunition and personnel from the territory of Russia, said the coordinator of group "Information resistance" Dmitry Tymchuk on his page in Facebook.
See also:
On Donetsk the cemetery has dramatically increased the number of new graves
According to "Information resistance", in uncontrolled Kiev territory of Donetsk and Luhansk regions have delivered more than 600 tons of ammunition, about 2 thousand tons of combustive-lubricating materials, not less than 80 armored fighting vehicles (including tanks) and 10 artillery systems (ACS and MLRS).
"Previously recorded IP group unit of "Cossacks" from the "Donskoy's vseveliky army" (about 300 people), transferred from Russia through the Marinating arrived in the district of Pervomaysk (controlled by "LPR")", — Tymchuk noted.
Recall Tymchuk also reported that the FSB organizes trainings for journalists of the so-called "LDNR" controlled by terrorists "the media" to enhance the effectiveness of disinformation and propaganda on the temporarily occupied territory of Donetsk and Lugansk regions.
Comments
comments