McCain has invited Trump to give Ukraine lethal weapons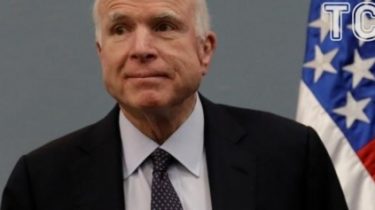 American Republican Senator John McCain has advised the White house to Donald Trump to provide Ukraine with lethal defensive weapons. He wrote about this in his Twitter.
See also:
Trump: the Crimea was annexed by Russia
Thus he commented on the criticism of trump, in which he named his predecessor, Barack Obama is too soft, because during his presidency, Russia annexed the Ukrainian Crimea.
"Yes, he [Obama] was too soft – let us take another course: provide lethal defensive weapons to Ukraine and save the sanctions against Russia," – wrote McCain.
Yes, he was too soft – let's take a different course together: give defensive lethal assistance to #Ukraine & keep sanctions on #Russia https://t.co/2Su2wIiyWs
— John McCain (@SenJohnMcCain) February 15, 2017
Recall, this is not the first request of the Senator to provide Ukraine with lethal weapons. Thus McCain was asked by trump to defend Ukraine from Russian aggression and it is under control of militants in connection with the escalation of armed conflict in the Donbass.
Comments
comments