Russia begins a milk war with Belarus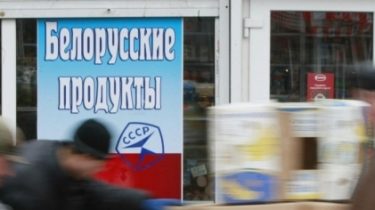 Between Russia and Belarus is gaining momentum politically-economic war. After the publication of a survey which says that 78% of Russians supported the introduction of a visa regime with Belarus, and now switched on the shelves. The Minister of agriculture of the Russian Federation Alexander Tkachev called for Russian producers of milk and dairy products to increase capacity to move with the market of Belarusian products.
Currently Belarus is the main supplier of milk and dairy products in Russia makes annually to $ 3 billion. This Tkachev said during the Congress of the Association of peasant farms and agricultural cooperatives, transfer "RIA Novosti".
"The shortage of milk in our country is around 7 million tons, and the milk we import from Russia, some from other countries, but mostly Belarusian milk. It is the main supplier to the Russian market. I think the problem milk they decided five years ago, fed his people, 15 million people. And almost the same amount of supply on the Russian market and make money on it no less than 3 billion dollars", – said Tkachev.
See also:
Soft belorussizatsiya. In Belarus begin to nepoluchitsya instructions of the Kremlin
He urged farmers to increase production.
"I think it's a matter of principle – our incomes, our jobs, taxes. This is your present and future. Therefore, it is necessary to take very seriously for the solution of the food problem in the country, and I believe that farmers need to lead this process," urged Tkachev.
Last year the volume of milk production in Russia amounted to 30.7 million tons. This is 0.2% less compared to 2015.
We will remind, in November of 2016, the Rosselkhoznadzor has stated that it is found in dairy products dry milk. Of the 76 samples it was detected in 33%. the President of Belarus Alexander Lukashenko said in early February offered to open a criminal case against the head of the Rosselkhoznadzor Sergey Dankvert for the obstruction of supplies of Belarusian foodstuffs. Lukashenka expressed dissatisfaction with the fact that Belarus supplies Russia with only 4 million tons of dairy products imported from Russia each year 7 million tons.
Meanwhile, Belarus has found an alternative to the Russian "black gold".
Comments
comments