The NATO Secretary General personally assured Poroshenko in the termination of cooperation with Russia and support sanctions against it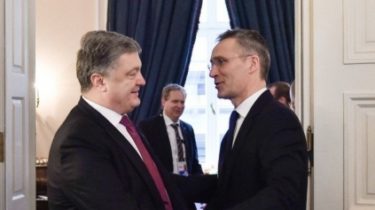 Saturday, February 18, in the framework of the Munich security conference held a meeting of Ukrainian President Petro Poroshenko, with NATO Secretary General Jens Stoltenberg.
About it reports a press-service of the President of Ukraine.
"The President briefed the NATO Secretary General about the difficult situation of security in the Donbass and a significant escalation of tensions caused by massive attacks by Russia-controlled militants in the area Avdeevki", — stated in the message.
See also:
Merkel urged NATO to strengthen the Eastern flank due to the annexation of Crimea by Russia
Jens Stoltenberg, in turn, said that NATO has suspended practical cooperation with Russia, also supports the sanctions until the full implementation by Russia of the Minsk agreements.
In addition, Poroshenko thanked the Secretary General for the clear position regarding the condemnation of the aggressive policy of Russia and its actions in the Donbas. He also thanked for the consistent support of sovereignty and territorial integrity of Ukraine by NATO and noted the importance of maintaining transatlantic unity in confronting the ongoing aggression of Russia.
See also:
Poroshenko met with Polish President Duda: emphasized the preservation of sanctions against Russia
Poroshenko also stressed the importance of practical support that NATO gives to Ukraine to strengthen the defense and security sector reform and defense according to NATO standards.
Assistance provided by NATO to strengthen the defense, is very important to us. Agreed with Jens Stoltenberg to continue this work pic.twitter.com/A1DFd2EFp0
— Petro Poroshenko (@poroshenko) on February 18, 2017
During the meeting President Poroshenko and Secretary General Stoltenberg agreed to intensify further the work within the target of NATO Trust funds in support of Ukraine.
Poroshenko also invited the delegation of the North Atlantic Council to visit Ukraine in 2017.
We will remind, during the Munich security conference Vice-President Mike Pence assured that the States is committed to NATO and is ready to defend Europe.
At the same time, German Chancellor Angela Merkel urged NATO to strengthen its Eastern flank. According to her, NATO's role in Europe increased after the annexation of Crimea by Russia.
And Russian foreign Minister Sergei Lavrov, in turn, said that the termination of cooperation between NATO and Russia is "sad".
Comments
comments