Ukraine received an important signal from the United States regarding support for Poroshenko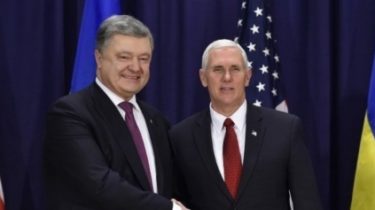 The new government of the USA supports Ukraine in its struggle for Donbass and the return of the Crimea, which Russia annexed.
This was stated by Vice-President Mike Pence during the negotiations with President of Ukraine Petro Poroshenko. The meeting was held in Munich, Germany, where the international security conference. About it reports a press-service of the President of Ukraine.
"Once again received a strong signal that the United States with Ukraine that the new US Administration, Ukraine is among the first priorities. The issue of Crimea and resolute struggle for the liberation of the Crimea also remains among the priorities", – said Poroshenko.
In meeting with President Poroshenko today, I underscored with U.S. support for Ukraine and full implementation of Minsk. pic.twitter.com/2e32Ov0t6y
— Pence Vice President (@VP) February 18, 2017
Pence meeting with Poroshenko lasted twice longer than planned. They discussed the coordination of actions on the situation in the Donbas, Russian occupation of parts of Eastern Ukraine, and also coordination of effective steps and the formation of the Ukrainian agenda regarding negotiations with the Kremlin.
"I was pleasantly surprised a very good awareness of the Vice President of the United States about the details of the process that occurs", – said Poroshenko.
The President of Ukraine invited Pence to visit Ukraine.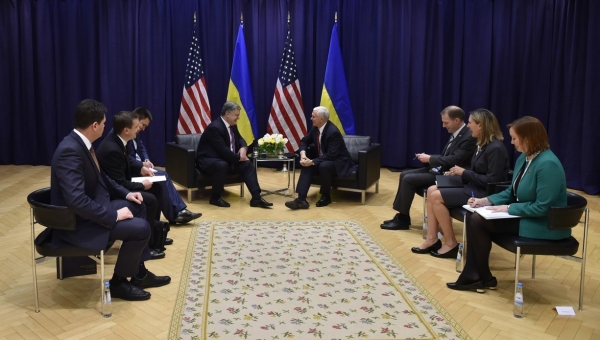 The website of the President of Ukraine
During the Munich security conference, Poroshenko held several meetings with leaders of countries and notes that received strong support.
"It is very important that today and yesterday, Ukraine was among the first and main themes of the conference on security. And we received another confirmation of the strong global solidarity with Ukraine, helping us during the Russian aggression", – said Poroshenko and stressed that the decision no questions behind Ukraine is not planned and never will.
Poroshenko also sharply criticized Putin's decree on the recognition of passports and other documents of the militants in the Donbas.
Comments
comments