Klitschko announced the staggering statistics of broken roads of the capital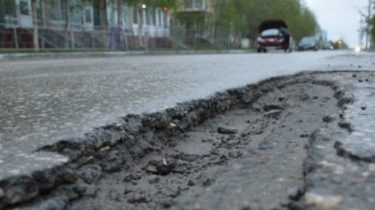 In KSCA announced the staggering statistics of broken roads of the capital, and told the reasons for such state of the road surface.
This is stated in the press service of the administration.
"It should be noted that due to uncontrolled movement of heavy transport on the roads of the capital, sharp and often reduce the temperature, exceeding several times the turnaround timing of the overhaul (some sections of the road network of the city didn't repair the past 30 years), with 89.9% of the streets and roads of Kiev today demanding the immediate repair," – said Klitschko.
Today, February 20, road workers plan to continue the repair work on the streets of Alma-ATA, Constantine, M., Teligi, Balzac; on the avenues estate, Lobanovsky, Mayakovsky Avenue, Bandera, Catholicity, Science and the like.
Meanwhile, the "kievavtodor" reports that the roads should be repaired with the use of molten asphalt and hot mix asphalt began yesterday, February 19.
During yesterday conducted repairs on Baseina street, Boryspil, Zhukovsky, General Zhmachenko, Commerce, Balzac, Teligi, Cossack, Cyril, Radunsky; in Kharkov and Kiev highway, Avenue Brovarsky, estate, Avenue, Bandera; square Heroes of Brest and in other areas.
See also:
On repair of roads has allocated an additional half a billion hryvnia – Omeljan
We will remind, officials explained why in Ukraine the roads are bad and when they are repaired. Ukrainian roads are one of the worst in the world. Ukraine was on one hundred and thirty fourth place in the rating of roads. Of one hundred and thirty eight possible. The experts of the international economic forum published a ranking of the most business-friendly countries. In the section "road" Ukraine walked Honduras, Gabon and Zimbabwe.
Comments
comments