Want to be friends with Putin – fold mandate. Lyashko responded to the proposals of radical sanctions of the Russian Federation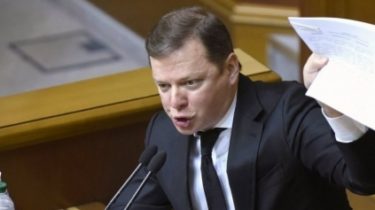 The leader of Radical party Oleg Lyashko said that his party faction member Andriy Artemenko should to fold the mandate after participating in the drafting of proposals on how the US President Donald trump would remove the sanctions against Russia.
According to the leader of the radicals, the so-called "peace plan" Artemenko – exclusive of his own position, which is not supported by other members of the political force.
See also:
The Ukrainian plan: trump and Flynn didn't know about the idea of a referendum in Crimea and the lifting of sanctions with Russia – NYT
"Crimea is Ukraine. And any talk of legalizing the annexation of the Russian Federation ( and the "rent", and all the others), the lifting of the embargo for the sake of "peace" is totally acceptable. Lease the Crimea to the Moscow invaders is the same as rent, perisseu the circus his own mother. Russia needs to get the hell out of the Crimea and Donbass", – wrote Lyashko on his page in Facebook.
He later added that "strange behavior" Artemenko his colleagues to discuss at the next meeting of the policy and called a parliamentary mandate.
"I demand from Andrey Artemenko to put the Deputy mandate, he has no right to be a member of the faction of the Radical party and has no right to represent the Radical party. What happened, I think that it is discrediting Ukraine and our team. So I think if Artemenko said that he was a new politician who wants to be friends with Putin, wants to be friends with Russia – put mandate and buddy go where I want," – said Lyashko in the Rada lobby.
Formerly a well-known newspaper The New York Times reported that a week before Michael Flynn resigned from the post of adviser to the President on national security, his office was delivered a package of proposals about how the head of the White house Donald trump could lift sanctions against Russia.
According to the publication, in the drafting of the document took part the Deputy of the Verkhovna Rada of Ukraine Andrey Artemenko member of the faction of the Radical party. In the plan, in particular, contain requirements on the withdrawal of Russian troops from Eastern Ukraine. Ukrainian voters also proposed a referendum to decide, be handed over to Russia the Crimea in rent for 50 or 100 years.
Ambassador of Ukraine to the United States Valeriy Chaly said that the Ukrainian people's Deputy Andriy Artemenko not authorized to represent any alternative peace plan on behalf of Ukraine, any foreign government, including the U.S. administration.
Comments
comments