The sentencing of General Nazarov in the case of the death of the IL-76 suffered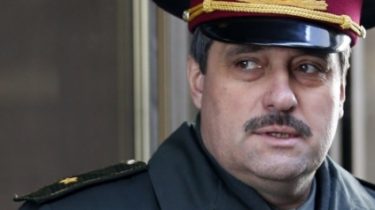 In the Pavlograd court today was held the final of the case of the downed IL-76 in Lugansk in the summer of 2014, where General Viktor Nazarov, who at the time headed the staff of the ATO, accused of negligence that led to the death of 49 paratroopers, says TSN.12.00.
The hearing began with an action under its walls. Relatives of dead Marines on the courthouse hung pictures of their children, husbands and grandchildren. People did not hide emotions. All waiting to hear the verdict.
See also:
"Filled up the Board". SBU has published the recording of the conversation Carpenter about downed IL-76
The military Prosecutor's office requires for the General Nazarov 8 years of imprisonment. The court heard many witnesses who argued that the intelligence about an ambush of militants in the Lugansk airport was. He Nazarov during the trial denied it. And that's today said it expects justification.
"Yes, I'm waiting for the acquittal. In order for something to answer, something has to break. I did nothing wrong," says the defendant.
The court therefore began very restless. Tension was added to that gathered here today are a few dozen military, allegedly came all the way from Dnieper to support Nazarov. Lawyers of victims consider their presence a pressure on the court.
Shortly after the start of the meeting it became known that the sentence that everyone was expecting today, the judge started to read. The meeting just ended. The judge announced that she had to clarify some of the evaluation data. Therefore, the court hearing was postponed to 28 February.
Comments
comments