Yanukovych is preparing to Trump the letter of the "truth" during the revolution of dignity, ex — interior Minister Zakharchenko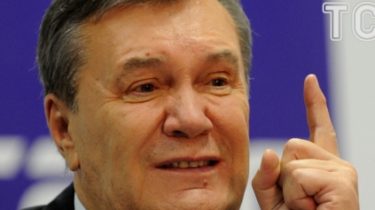 President-the fugitive Victor Yanukovych is preparing a letter to the President of the USA of Donald trump and the heads of European States, which will tell "the truth" about the events on independence three years ago.
This broadcast of the Pro-Kremlin TV channel "Russia-1" said the former interior Minister of Ukraine under Yanukovych, Vitaliy Zakharchenko.
See also:
Ally of Yanukovych Sukhomlin "passed" the former President admitted his guilt and returned the money
"Yanukovych is preparing letters on trump's name, leaders of the European States, which explains what has actually happened (at the time of the Revolution of Dignity) and what treatment he received from European countries", — said Zakharchenko.
However, he added that it was "direct interference in the internal Affairs" of Ukraine.
"The essence of these complaints, and in fact the instructions on how to act and how not. This was a direct interference in the internal Affairs of a sovereign state of Ukraine", — said Yanukovych ally.

We will remind, eks-the Deputy of the state Duma Denis Voronenkov, spoke about the letters that Yanukovych wrote to Vladimir Putin. According to him, a letter of request to send Russian troops to Ukraine was not the first.
Incidentally, the Pechersky regional court of Kiev ordered the defense deprived the title of President Viktor Yanukovych acquainted with the materials of the case of treason until March 5.
Yanukovych said that had a number of questions to the GPU is relatively open against him of high treason. Yanukovych said that is not properly received suspicion of treason, and therefore asked not to consider himself a suspect. This is stated in the letter by the former President of the Pechersk court of 18 January.
Suspicion Yanukovych has declared the public Prosecutor of Ukraine Yury Lutsenko during video interrogation of a former head of state. At the same time Lutsenko has declared that will give the documents to lawyers who were present at the hearing, and will give properly in Rostov. Note that the main argument of the prosecution was a letter from Yanukovych to Putin asking for military support.
Comments
comments