Day Firtash: the court's decision surprised the oligarch and lawyers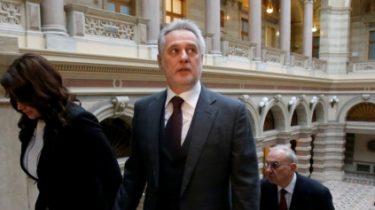 The location of the oligarch Dmitry Firtash is still unknown. The Prosecutor's office of Vienna only confirmed the fact of arrest, which, together with the court's decision came as a surprise for the oligarch and his five defenders-lawyers, says the story TSN.19:30.
The Vienna court announced a decision that the citizen of Ukraine can give America, which for three years waiting for the extradition of billionaire, because that accuses him of bribery and corruption. These articles Firtash can sue for 50 years and take away all the assets. But the final decision of the extradition judge gave the Minister of justice of Austria, which can either block this decision, either to agree with him. The judge who read out the verdict, noted that the Austrian court does not put the mark of a criminal, because the goal was not to establish the guilt of Firtash, and to determine the possibility of the extradition proceedings. Proof of guilt – it is a matter of American investigators.
See also:
Firtash won a green card. As the Network has responded to the decision to extradite the oligarch in USA
The court's decision was a complete surprise for many people, after all, before the Austrian court refused an extradition, because he considered the case politically motivated. The defense then called the Austrian justice system is not to become a hostage to America and to take into account that Firtash may be buried as a person, because you'll lose everything from money to family. The defendant left the room without comment, and his lawyers, although before the meeting they announced the approach to the press.
The press service of the Ukrainian billionaire announced that Firtash went to seek advice from his lawyers, among them former Minister of justice of Austria. But at the exit of the court Firtash was arrested on a warrant issued by Spain in another criminal case, where the oligarch suspected of money laundering and participation in an organized criminal group, which was connected son of a former Kyiv mayor Stepan Chernovetsky. Spain also wants the extradition of the oligarch.
The correspondent TSN Margarita Sytnik
Comments
comments