"Peace plan": Artemenko assures that you will come to the challenge to the investigator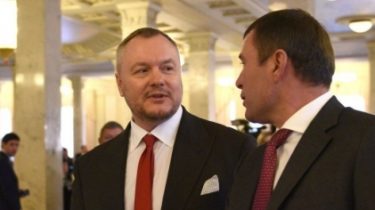 The people's Deputy Andrey Artemenko assures that you will come to the challenge to the investigator and give explanations in the criminal case against him.
About it reports "112 Ukraine".
"I will always come when summoned by the investigator and give all explanations", – said Artyomenko. The MP believes that if he can go to prison for treason, in prison should get all the statesmen of the country.
"If I go to prison for treason, then all public figures that are in the country must pass through the prison. This proves what is happening to me", he added.
We will remind that the Prosecutor of the Autonomous Republic of Crimea has opened a criminal case over the "peace plan", which provides, inter alia, the lease of the Crimea in 100 or 50 years Russia and the lifting of sanctions with Russia.
See also:
The bribery of MPs, the case Artemenko and a new plan of the Russian Federation. What was said at the briefing, the GPU and the SBU
Formerly a well-known newspaper The New York Times reported that a week before Michael Flynn resigned from the post of adviser to the President on national security, his office was delivered a package of proposals that Ito the head of the White house Donald trump could lift sanctions against Russia. In this "peace plan" proposed to take the Crimea is leased by Russia. Ambassador of Ukraine to the United States Valeriy Chaly said that the Ukrainian people's Deputy Andriy Artemenko not authorized to represent any alternative peace plans , on behalf of Ukraine.
The radical party was excluded Artemenko from their ranks and called upon to surrender the mandate. The Deputy himself says that the representatives of the United States are addressed him.
Comments
comments