Savchenko commented on the calls for a coup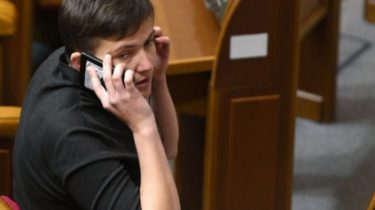 In the people's Deputy of Hope Savchenko commented on the information about calls to the ATO participants to leave the position and go to Kiev to overthrow the current government.
About this UKRINFORM reported in the press-Secretary of the Deputy Tatyana, Protoscience.
"I don't know where the MP got this information, but in the area of Avdiivka, in particular where the road comes near the Donetsk airport, Nadezhda V. was not alone, there was me and Vera Savchenko. Nothing illegal, the illegal was not there, and any talk of such, referred to by Mrs. Rychkova, was not. Where she got it from is the question to her. This is nothing more than a provocation," said Protoscience.
In relation to links to Rychkova fighters in the 79 th and 80-th separate air assault brigades press Secretary Savchenko added that she personally was asked and can't remember if they called your team.
"But in that area, not so many roadblocks, and we are not many people met. So I understand, you are talking about, if these people are actually saying something. But I have serious doubts about what they said …", she said.
See also:
Savchenko and Ruban arrived in the occupied territory of Donbass
We will remind, people's Deputy Nadezhda Savchenko called on the military in atoms to leave their positions and to go to Kiev in order to "overthrow the criminal power". This was during a meeting of the Council told the people's Deputy from BPP Tatiana Rychkova.
According to her, this fact can confirm the military.
Rychkova noted that the military regret not having recorded the visit Savchenko in the camera.
Previously, the Committee on national security and defence appealed to the GPU with a request to check the people's Deputy Nadezhda Savchenko on treason. Colleagues Savchenko took a decision and recommended to the Board to eliminate the controversial policy of the Committee.
The Chairman of the Committee Serhiy Pashinsky, in turn, said that there are grounds for GPU test Savchenko treason.
The controversial proposal Savchenko "to hand over Crimea in exchange for the Donbass has caused a flurry of indignation among Ukrainian politicians, experts and journalists.
Comments
comments