"Best friend of terrorists" Savchenko tried to enter the location of the fighters ATO, – Shkiriak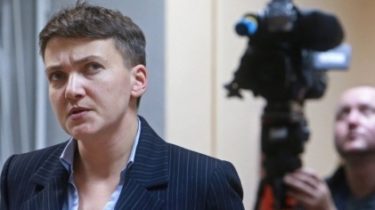 The people's Deputy Nadezhda Savchenko tried to enter the location of the advanced Ukrainian brigades in the area of ATO and called on the military to public rebellion.
This was announced by adviser to the interior Minister Zoryan Shkiryak.
He called the people's darling "associate of the Kremlin," and expressed the opinion that the scenario of "state crimes" which politician tried to implement, was written by the FSB.
See also:
In the Parliament called GPU test Savchenko.
"The best friend of Russian terrorists and an active associate of the Kremlin, using the mandate of people's Deputy, tried to enter the location of advanced 79 and 80 OAMB in the area of ATO. As it turned out, she went there with the openly provocative way, and appeals to "drop the weapon, go with advanced on Kiev to carry the "criminal power"… It is a direct call to overthrow the constitutional order," – said Shkiriak, adding that Savchenko called for a public revolt active military personnel who are fighting against the enemy on the front lines.
In the opinion of the adviser to the Minister, there are grounds to open criminal proceedings according to article 109 of the criminal code – high treason, incitement to overthrow the constitutional order and so on.
Information about Savchenko actions and words of people's Deputy Tetyana Riskovoi in the Parliament Shkiryak confirmed Marines from the front.
We will remind, during session of Parliament on 24 February, the people's Deputy from BPP Tatiana Rychkova told that Nadezhda Savchenko called on the military in atoms to leave their positions and to go to Kiev to "drop criminal power."
Subsequently, the media militants announced that Savchenko together with the head of the public organization "Officer corps" Vladimir Ruban arrived in the occupied Donetsk.
Press Secretary of the Deputy Tatyana, Protoscience said that Savchenko "nothing illegal, the illegal was not there, and no talk of such, referred to by Mrs. Rychkova, it was not".
Comments
comments