Savchenko urged the participants of the ATO to go to Kiev to overthrow the current government – Deputy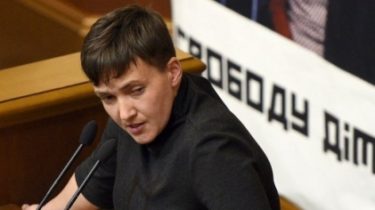 The people's Deputy Nadezhda Savchenko called on the military in atoms to leave their positions and to go to Kiev in order to "overthrow the criminal regime."
This was during a meeting of the Parliament said the MP from the PPO Tatyana Rychkova, reports Еспресо.TV.
"This week the people's darling, Nadezhda Savchenko, was in the district of Donetsk airport, where he met with the servicemen of the 80th separate airborne brigade, and the 79th brigade. And incited them to leave their positions and come to topple the criminal regime", – said the MP.
According to her, this fact can confirm the military.
Rychkova noted that the military regret not having recorded the visit Savchenko in the camera.
See also:
Savchenko refused parliamentary immunity
We will remind, the Committee on national security and defence appealed to the GPU with a request to check the people's Deputy Nadezhda Savchenko on treason. Colleagues Savchenko took a decision and recommended to the Board to eliminate the controversial policy of the Committee.
The Chairman of the Committee Serhiy Pashinsky, in turn, said that there are grounds for GPU test Savchenko treason.
The controversial proposal Savchenko "to hand over Crimea in exchange for the Donbass has caused a flurry of indignation among Ukrainian politicians, experts and journalists.
Comments
comments