The Prosecutor's office has appointed "second series" of the interrogation of the MP Artemenko on allegations of Crimea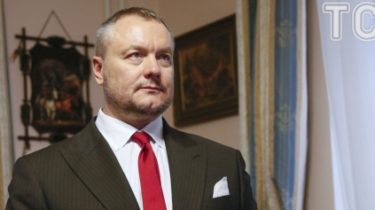 The Crimean Prosecutor's office today ended the interview with the people's Deputy Andriy Artemenko, but will continue questioning on Monday. This was stated in the GPU after the meeting with the MP.
Artemenko being interviewed as a witness in the proceedings, is open for treason – the case was opened after the publication of the scandalous member of the plan for a peaceful settlement of the situation in Ukraine, which provides for the surrender of the Crimea is leased by Russia.
The Prosecutor's office can't say yet, will Artemenko some punishment, because the investigation has just begun. The Deputy himself came with a lawyer and answered all the questions.
The GPU has denied the information that Artemenko wanted to prevent the departure from Ukraine. What they discussed with the Deputy – prosecutors do not inform, referring to secrecy of the investigation.
Formerly a well-known newspaper The New York Times reported that a week before Michael Flynn resigned from the post of adviser to the President on national security, his office was delivered a package of proposals about how the head of the White house Donald trump could lift sanctions against Russia. In this "peace plan" proposed to take the Crimea is leased by Russia. Ambassador of Ukraine to the United States Valeriy Chaly said that the Ukrainian people's Deputy Andriy Artemenko not authorized to provide any alternative peace plans , on behalf of Ukraine.
The radical party was excluded Artemenko from their ranks and called upon to surrender the mandate. The Deputy himself says that the representatives of the United States are addressed him. The Prosecutor's office of Autonomous Republic of Crimea amounted to a suspicion on the people's Deputy Andrey Artemenko under article 111 part 1 of the Criminal code of Ukraine – treason.
Comments
comments