Veto power: Russia wants to block the UN security Council new sanctions against Syria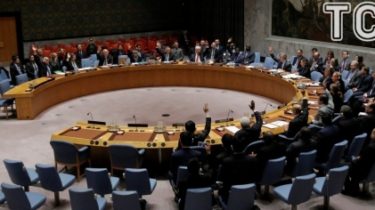 Russia has promised to veto the draft resolution of the UN Security Council providing for sanctions against Syria for use of chemical weapons.
It is reported TASS with reference to Deputy permanent representative to the UN Vladimir Safronkov.
Earlier intention to submit to the UN security Council resolution on Syria said the U.S. Ambassador to Nikki Haley.
"Now, when there are results, these results do not like. This is ridiculous. How much more Russia will coddle and justify the Syrian regime?", — leads her words RIA Novosti.
See also:
Deadly traps in the basement and the foam from his mouth: HRW released a report on chemical attacks in Aleppo
We will remind that earlier the US Treasury imposed additional sanctions against the Syrian government after confirming the facts of persecution massively technical chlorine Syrian citizens.
"The Syrian regime use of chemical weapons against its own people is a heinous act that violates the established global norms against the production and use of chemical weapons," said acting Deputy Secretary of the Treasury for terrorism and financial intelligence Adam Szubin.
The office for foreign assets control of the U.S. Treasury Department took these actions after the conclusions of the Organization for the prohibition of chemical weapons (joint investigative mechanism the UN – ed.) that "the Syrian regime has used industrial chlorine as a weapon against its own people."
In the sanctions list includes 18 high-ranking members of the regime associated with the mass murder of citizens in Syria, as well as five military institutions of the Syrian government.
See also:
Chemical weapons and bombed-out hospital in Aleppo. Published a report on the crimes of Russia and the Assad regime
In August 2016 the investigation, which was conducted by decision of the UN confirmed that the Syrian army at least twice used poison gas in attacks in 2014 and 2015.
Chlorine is widely used in various chemical industries, but using it as a weapon banned by international treaties.
We will remind that earlier in the Syrian segment of social networks began to appear reports that Russia is using in Syria is prohibited by the Geneva Convention munitions filled with deadly white phosphorus.
A victim of the intense bombings, which are conducted in the North-West of Syria, becomes mostly civilians.
Comments
comments