Blockade told about the injury from armed thugs and called the cause of the storming of the redoubt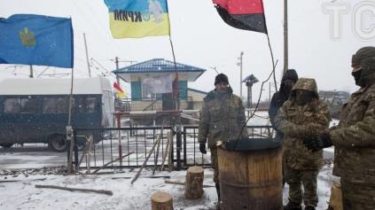 At the headquarters of the blockade of trade with the occupied Donbass reported that as at 16:00 redoubt "16th volunteer battalion" released.
In addition, noted that, in General, from the storming of the aunts were injured three people, said the Headquarters on Facebook.
"Three victims of the defenders of the redoubt were hospitalized. One with a stab wound, one with a traumatic brain injury and another with a broken leg. Affected medical assistance", — said the blockade.
See also:
Police arrested 37 attacked the participants of the blockade on Donbass, – Abroskin
The blockade also said that the assault was planned as a provocation. So, someone wanted the blockade rebuffed.
"We believe that with very high probability this attack was intended as a provocation to cause armed resistance of the defenders of the redoubt, and to the "moral" right for the violent dispersal of "both sides." In favor of this assumption is evidenced by the fact that the attack on the redoubt occurred during a meeting of the Cabinet of Ministers, which the Minister of internal Affairs Avakov declared its readiness to disperse the participants of the blockade," — said in the Headquarters.
"Now the garrison of the redoubt "16 the volunteer battalion" additional fortified Headquarters of the blockade. In the near future the Headquarters will make a statement about his further actions", — added the blockade.
We will remind, earlier, on 28 February, the people's Deputy Vladimir Parasyuk reported on the storming of the redoubt in the village Scherbynivka that nearby Turecka Donetsk region. Then the staff reported one wounded.
The assault lasted about the same time when the Cabinet was made by the interior Minister Arsen Avakov. He, among other things, asked the authority for the lifting of the blockade of the occupied Donbass.
People's Deputy semen Semenchenko in response to the words of Avakov said: "I think by the time were Avakov would be the information that and use firearms for power protection, this would be a great excuse to blame the veteransto blame the fact that they're shooting at local residents and to take action. But the reticence of the veterans have helped this scenario to avoid it."
Comments
comments