The engineer explained why the Shulyavska overpass you can go after the collapse
Examination of the damage Shulyavska overpass was conducted immediately after the crash, on the night of February 28.
About this TSN.ia told Rashid Khalilov, head of division of perspective development of road network and urban transport Institute "Kyivdormostproekt". This Institute was designed by Shulyavska overpass over half a century ago.
See also:
He's tired. History Shulyavska overpass in one picture
According to Khalilov, Shulyavska overpass collapsed cornice is an architectural element of the building that hides the design of the pavement, sidewalk blocks and more.
"It carries no load, it just hangs. Cornices became unusable and fell. However, the structural part is not affected," – said Khalilov.
Therefore, it was decided on the resumption of traffic, but with some restrictions. Given the need to maintain traffic safety, vehicles can not drive up close to the edges of the overpass, so the width of the carriageway on the bridge was reduced stops half a meter (0.75 m each side).
"There is still a danger of further destruction of these plates. So it's fate alludes to the fact that there an urgent need to do something and the matter must be treated seriously", – said the engineer.
Khalilov also said why so long project of reconstruction of the overpass and expansion of the interchange at Shulyavka. Read soon in an interview with Rashid Khalilov on TSN.ia.
Because of the accident, which frightened residents and caused a stormy discussion in social networks, we have gathered the facts about the viaduct, built half a century ago – in 1964. That looks like it was a short story.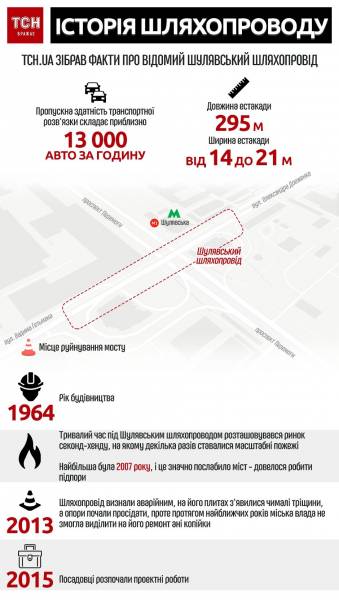 Dnia
We will remind, in the evening of 27 February, the Shulyavska overpass partially collapsed. Klitschko, who arrived on the scene, called the preliminary cause of the collapse Shulyavska overpass. The mayor noted that the overpass was not considered an emergency, however, was violated rules of operation. Network users laugh at the accident, which in Kiev were already waiting because the building is in poor condition.
Later, Klitschko was ordered to dismiss his Deputy for transport and the head of Solomensky district, which imposes liability for the accident.
Comments
comments