Korczak criticized his Deputy for the inhibition of the work of the NACP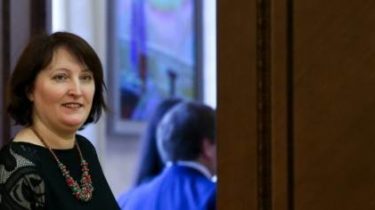 The Chairman of the National Agency for prevention of corruption Natalia Korchak criticized the work of his Deputy Ruslan Radetsky.
"Yesterday we had a regular meeting in which we had to consider with respect to the direction of the protocols on corruption in the court," she said at the briefing, reports Ukrainian Pravda.
"Our individual members of the National Agency was so excited about them that I forgot why I came to work," protested Korczak.
See also:
"Not only NACP, bad work other registers": key statements Korczak with a briefing on e-Declaration
She also informed the members of the NACP that the resignation is not therefore proposed to continue work and go to the work plan.
"They refused, demonstrated their irresponsibility. From his esteemed Deputy Ruslan Radetsky I got a message that members of his Department's protocols on administrative offenses", — said Korczak.
"In accordance with law, within three days from the date of the Protocol should be submitted to the court by the decision of the NACP. The deadline for these protocols expires today, but the issue was not addressed, yesterday I offered to come!" — outraged the head of the NACP.
Comments
comments