Two-wheeled "tycoon." Klitschko dropped as much as 9 bikes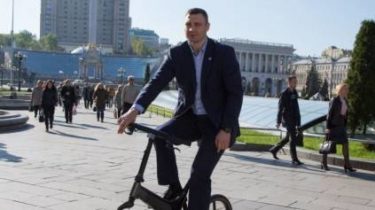 Kyiv city Chairman Vitali Klitschko have filed my e return for 2016.
The mayor has an apartment in Kiev for almost 252 sq. m. At his wife Natalia Egorov recorded house on 785,5 sq m and 25 acres of land.
Two cars in the family recorded on the mayor's wife – Toyota Sequoia 2014 release and Land Rover Discovery 3.0 2013 release.
Vitali Klitschko noted that he has a platform trailer Ironhorse Widebody 2013, motorcycle Custom Fine Puncher 8.125-4 2009 edition and nine expensive bicycles brands of Scott, Cannondale and Coratec. Two of these bikes he bought last year for 135 thousand UAH each.
The salary of the mayor for the year amounted to 147 thousand 920 UAH, that is, he was getting average of 12.3 thousand UAH per month.
Among other income – UAH 518 percent of Deposit in "UkrSibbank", 4770 UAH per cent of the Deposit in the "Bank Credit Dnepr", 1 million 660 thousand UAH – royalty. Also got a gift from the National Olympic Committee of Ukraine in kind, which was estimated at 200 UAH. On the income of his wife – none of the figures.
"UkrSibbank" on Deposit at Klitschko lying 1014 euros, 5851 UAH 1265 dollars. In "Bank Credit Dnepr" in the accounts – 121 dollar 119 thousand UAH 578. Cash the mayor holds 30.1 thousand and $ 42 thousand euros.
Vitali Klitschko someone borrowed 8 million 515 thousand Euro and 741,5 thousand dollars.
In the past year for air travel spent 542 thousand UAH.
And placed in the London magazine pay for an article 588 675 thousand UAH (in equivalent).
Together with his brother Vladimir are both 50% owned the brand "Klitschko" for the Ukrainian, English and German.
E-declarations of the President of Ukraine Petro Poroshenko and head of the national Bank Valeria Gontareva is available on Tsna for these links.
Comments
comments