"They have to admit guilt": Lutsenko rejected the possibility of a General Amnesty for militants in the Donbas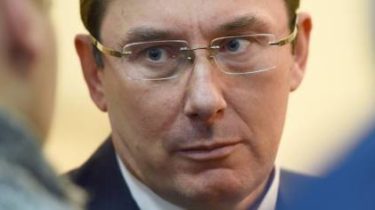 A General Amnesty to militants who participated in the conflict in the Donbass Ukraine will not provide and each case will be considered separately in court.
About that Prosecutor General Yury Lutsenko said in an interview with German newspaper Bild.
"Amnesty in Ukraine may be provided only individually and only in cases which are generally amenable to Amnesty. In accordance with Ukrainian legislation, murder, torture, rape, causing of heavy harm to health are not subject to Amnesty. If this item should be implemented in the framework of the Minsk agreements, we will study the request of every individual. If the court determines that the person did not commit these acts, the court can grant Amnesty," – said Lutsenko.
See also:
Shortly before the murder Boronenkov his killer was a visit to the occupied Donetsk.
According to him, after the Russian troops leave Donbas, you will need to solve the issue of fighters-Ukrainians.
"If 10 thousand armed Russian troops leave Donbas in fact, and we will finally be able to live in peace, then the question arises, what to do with the other 40 thousand Ukrainian separatists. Here there can be no General Amnesty. I like the attorney-General can act only within the framework of Ukrainian law. 40 thousands must lay down their arms and submit individual applications for Amnesty. They must admit their guilt and ask for Amnesty", – Lutsenko added.
He stressed that in any case, each request will be considered separately. Law enforcement officers will check, not did a serious person crimes that make it impossible for Amnesty.
We will remind, Lutsenko also said that the National anti-corruption Bureau does not have sufficient resources and opportunity to investigate all things, and that he should send to the General Prosecutor's office investigation according to the law. This is the reason of the conflict between the two institutions. Lutsenko also said that he intends to cooperate fully with the NAB and bring to court cases against all persons to NAB suspects of corruption.
Comments
comments