Members of the NACP are trying to dismiss Korczak. Document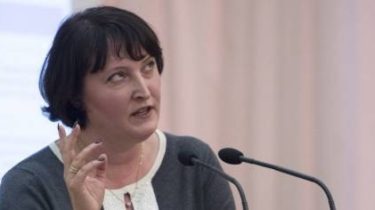 Today, April 4, the National Agency for prevention of corruption gathered for an emergency meeting, one of the issues which was supposed to be a voluntary resignation of the head of the NACP Natalia Korchak.
TSN got the handling of proposals "of priority actions to resolve the crisis with the management of the Agency", where the resignation of Korczak is the first item.
The initiators were the Deputy head of the NACP Ruslan Radetsky and a member of the Agency Ruslan riaboshapka. Proposed steps in the document items during the meeting after the break, however, Korczak decided to defer consideration of the document and closed the meeting. So to put the question of the resignation to a vote failed.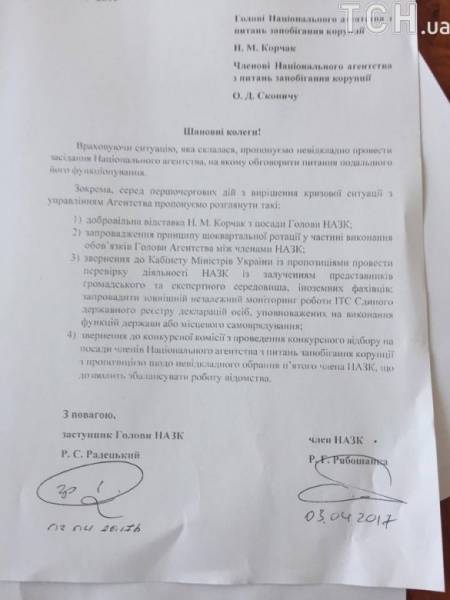 Photo of Olga Wasilewska/TSN
In addition to considering voluntary retirement Korczak, the authors propose NACP on a quarterly basis to transfer the duties of the head from one to another member of the national Agency, to apply to the Ministry with the initiative to conduct an audit of the NAPC and monitoring the functioning of the single register of declarations with the involvement of the public and foreign experts, as well as to appeal to the competition Commission to demand urgent to choose a fifth member to NACP for "balancing of the Agency's work".
The national Agency has been widely criticized as inappropriate operation of the registry for declarations that at the end of the deadline for reporting was not working for several days. On the eve of the deadline, April 1, when should be registered with all the electronic declarations of officials, the system again failed. Prime Minister of Ukraine Volodymyr Groysman called on the head of the NACP Natalia Korchak and other members of the Agency to resign. In turn, Korczak declared that is not going to resign.
The leadership of the NACP called to account in Parliament.
By TSN correspondent Olga Vasilevskaya
Comments
comments