The IMF downgraded the GDP growth forecast for Ukraine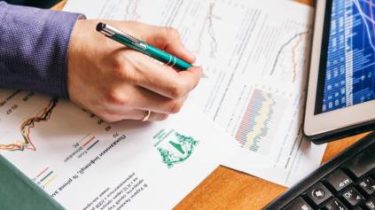 The IMF in connection with the blockade of uncontrolled territories and the loss of control over the co-located enterprises worsened the forecast of growth of gross domestic product of Ukraine in 2017 from 2.9% to 2%, slightly improve it in 2018, from 3% to 3.1%.
According to the published Fund materials, writes "Interfax", the second negative consequence would be the expansion of the current account deficit of the balance of payments in the current year from 3% of GDP to 3.7% of GDP, and 2.6% of GDP to 3% of GDP.
But the IMF confirmed its forecast of inflation to 10% in 2017 and 7% in 2018, and even slightly improved the estimate of the budget deficit from 3.1% of GDP to 3% of GDP this year and from 2.6% to 2.5% of GDP. This forecast coincides with the forecast released earlier by the National Bank of Ukraine.
The IMF also granted the request of the Ukrainian side in the current environment, growth of foreign trade deficit to reduce the amount of accumulation of foreign exchange reserves of $ 520 million to support the course and, accordingly, the implementation of the inflation target.
According to the new estimates, at the end of the current year gross international reserves of Ukraine amounted to $ 21.8 billion billion at the end of the next – $ 29.5 billion In 2019-2021 years the Fund expects Ukraine to the annual growth rate of 4% with a gradual reduction of inflation, respectively, to 6.5%, 6% and 5.5%.
See also:
Pension reform, NABOO and the launch of the land market: the conditions of cooperation with IMF
We will remind, on April 3 the Board of Directors of the International monetary Fund decided to allocate Ukraine one billion dollars.
Ukraine has already received from the IMF under a new extended credit programme 7.7 billion dollars. The last installment was in September of 2016, when Kiev received $ 1 billion.
Overall, the program signed in the spring of 2015, for four years, and the total amount of the loan amount to $ 17.5 billion.
Earlier, the head of the NBU Valery Gontareva said that in spite of the delay of the fourth tranche, the baseline scenario provides for four tranches of the IMF in the amount of $ 5.4 billion in 2017.
Comments
comments