Groisman spoke about the number of militants and Russian mercenaries in the Donbas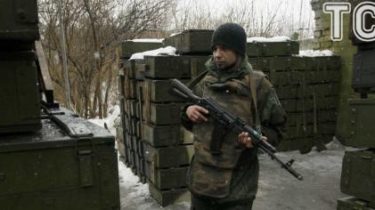 Prime Minister Vladimir Grosman stated that the total number of fighters on Donbass is 40 thousand people.
He said this at a meeting with heads of governments of the Baltic States.
In addition, the Russian troops in the Donbas more than four thousand.
See also:
Preparations for the offensive or on the defensive: the article analyses the actions of the militants in the Donbass
"The total number of illegal armed groups up to 40 thousand fighters, without regular troops of the Russian Federation, numbering more than four thousand," – said Groisman.
According to him, the armed militants of tanks 406, 848 armored personnel carriers, 208 reactive systems of volley fire (MLRS), artillery systems 732 and 413 antiaircraft defense.
In turn, only in March of this year from Russia to the separatists was delivered 12 MLRS, 94 units of automotive vehicles and 96 tanks of fuel.
Also Groysman said about fixing travel from Russia to Donbass 30 flatcars with military equipment, including self-propelled artillery.
We will remind, the Kremlin has found a way to "write off" thousands of pieces of equipment and millions of ammunition, sent to the Donbass: a considerable portion of these arms and ammunition have already disposed or scheduled for "disposal". According to Tymchuk, the defense Ministry planned supermystery disposal of weapons.
Comments
comments