MP-sponsor of the Lyashko said about the searches in the company of his father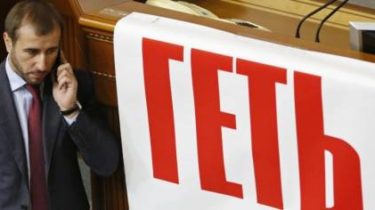 In Kiev and the Dnieper in the offices and factories of a major Ukrainian manufacturer of snack foods Corporation S. Group – conduct searches.
About it reports a press-service of the Deputy from "Radical party" Sergey Fishing.
See also:
Media have reported raids on the offices of the Lviv railway and MPs Dubravica
"They broke the doors, gates, buildings, ruthlessly crushed the server. Security forces closed themselves in the offices of Dnipropetrovsk organization of the Radical party and the S. Group Corporation and did not let", – said the Deputy.
It is argued that buildings are not allowed lawyers, the officers seized the phones.
As you know, the founder of the "S. Group" is the people's Deputy from "Radical party" Fishing. The Corporation includes "Clean planet", "Prodeksport-2009", "Sitexpert". It owns brands: Snekkin, "Kozatska Slava", "Miy fishing", Semki, "Macho", KartoFan, Red, Fantasy, Fantee.
Earlier media reports found that part of the income of the Corporation, which belongs to the family Fishing, shall be transferred to the Cypriot companies: they formally have issued virtually all of the company's trademarks. This had a hand and the people's Deputy, claimed the reporters. Fishing he said that the information on trademarks "Semko" and "Easy", which previously had been requested from him by the journalists, came allegedly distorted and untrue: all taxes are paid in Ukraine.
Journalists noted that the MP Fishing elected on the list of Radical party of Oleg Lyashko, known officially as one of its sponsors.
Comments
comments