The GPU is ready to support the claim about demolition of luxury cooperative on the island of Zhukov.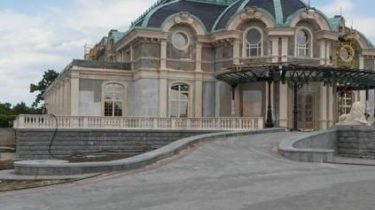 The Prosecutor General's office of Ukraine is ready to support the claim of the mayor of Kiev Vitali Klitschko on the demolition or confiscation of the premises of the cooperative "HTML", built on the lands of the landscape reserve of local importance "Zhukov Island".
This was stated by the head of GPU, Yury Lutsenko.
5 April, the Kiev appeal economic court left without satisfaction the appeal of the cooperative. They wanted the court cancelled the decision of Economic court of Kiev from December 15, 2016, which invalidated the decision of Kiev city Council on the transfer to the cooperative of more than 70 hectares of nature reserve land worth UAH 1.4 billion.
See also:
The Prosecutor's office took over the team Chernovetsky: ex-officials suspected in the theft of the lands of the reserve
Among others in this land, built himself a mansion, one of the companions of Yanukovych, ex-the regional Yury Ivanyushchenko (Enakievo), writes Nashi Groshi.
The General Prosecutor of Ukraine completed pre-trial investigation in criminal proceedings concerning ex-the Deputy head of Kyiv city state administration and the chief of the land resources.
It was found that an official for the receipt of unlawful benefit to any other legal entity in violation of the law, abusing his official position and groundless, have agreed on the transfer of property, OKGK "HTML" for construction land area of 65.1 hectares, with a total value of over UAH 1.4 billion, which can be included in the boundaries of the landscape reserve of local importance "Zhukov Island".
Comments
comments