When Assad crossed the line of human decency, Russia stood by the US Ambassador to the UN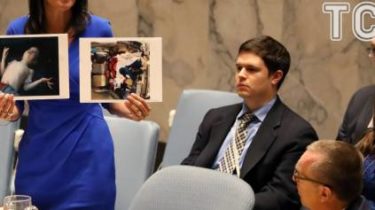 To the UN accused Russia and Iran in support of Assad.
About this at an emergency meeting of the Security Council said the U.S. permanent representative to the UN, Nikki Haley, writes UKRINFORM.
She stressed that not only the Syrian regime responsible for chemical attack in Idlib.
According to her, you have to ask Iran and Russia, which cover criminal actions of the Assad regime.
"The Iranian government has a great responsibility. He was for many years supported and covered up a brutal dictator in Syria," said Haley.
The Russian government also shares the blame, she said.
"Every time Assad crossed the line of human decency, Russia was standing next to him. We had hoped that the Security Council will move to their decisions, but Russia has stated – and it happened seven times, which uses its veto power, once again, shielding the Assad regime," added Haley.
"Strengthening of Assad will only lead to more murders. We do not allow", – summed up the representative of the United States.
See also:
The main question after the attacks on Syria: how will Russia respond? – The Washington Post
We will remind, us destroyers USS Porter and USS Ross night of April 7 was released 59 missiles on the airfield Syrian government forces Shirt. In the result , six people were killed, said the Ministry of defense of Syria. The operation was conducted in response to a chemical attack the Syrian government on 4 April in the town of Khan shaykhun, in which killed and injured hundreds of innocent Syrians, including women and children.
The head of the United States Donald trump called on "all civilized Nations" to join the United Statesto end the conflict in Syria. He said that Washington must "contain and prevent the spread and use of deadly chemical weapons," which, according to him, no doubt using the Syrian authorities.
In turn, U.S. Secretary Rex Tillerson said that Russia was "untenable" to meet its obligations in 2013 to protect Syria from chemical weapons. According to him, Russia is either a partner, or simply incompetent," because it does not comply with the agreement on disposal of chemical weapons in the country.
The head of the Russian Federation Vladimir Putin stated that the attack violates international law.
Comments
comments