Widow Boronenkov told that is not going to leave Ukraine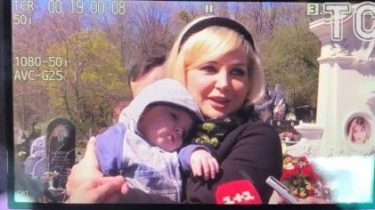 She was in the center of Kyiv former Deputy of the state Duma Denis Boronenkov Maria Maksakova in an interview with TSN told that is not going to leave Ukraine.
On 10 April, the day when Voronenkov was about to turn 46 years old, Maksakova came to his grave , along with the little boy. She calls the baby a copy of his father and says he does not yet have plans for the future.
See also:
Boronenkov could kill due to leakage of information from his driver the journalist
"I don't think about the plans, as once with Dennis, when we were together on earth (…) But anyway, now to get away from Denis, I was definitely not ready," said Maksakova.
The widow had to move his concert to the memory of her husband, but exactly when it takes place, the woman could not answer.
"Forty days early to talk about it," she explains.
Comment on murder Maksakova refused. Says it is secrecy of the investigation.
"You know, I'm not ready only about (talk – Ed). First, there is a secret investigation. And secondly, I have already quoted the Scripture. As the Lord said, to me vengeance, I am the reward. I see no reason to replicate some version of," – said the widow of former Russian Deputy.
Maksakova said that doesn't know how Russia can conduct their investigation of the murder of Boronenkov, because he had Ukrainian citizenship, and shot him in the territory of Ukraine.
According to the widow, the day of the murder, Boronenkov were supposed to meet, but what exactly – she said.
"There obviously had to be another meeting, but the meeting with Ilya (Ponomariov, former Deputy of the state Duma – Ed.) which did not take place. This is all being investigated. I can't say. Unfortunately, neither had he shared where he needed to go. They driver did not even met," she commented information that Voronenkov was supposed to meet my driver, who arrived from Moscow.
Maksakova added that no regrets about his move to Ukraine.
"Look, this was a deliberate choice, as I can spare. Ukraine gave Denis the opportunity to live in the future work. How can I regret the fact that the country saw in him a citizen. He died even as the citizen of Ukraine", – it summed up.
Comments
comments