Tillerson convinced Poroshenko in the absence of a batch agreement with Russia on Ukraine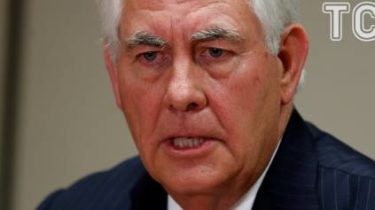 President Petro Poroshenko has held telephone consultations with U.S. Secretary of state Rex Tillerson.
On Twitter informed the speaker of the Ukrainian President Svyatoslav Tsigalko.
President Poroshenko held telephone consultations with U.S. Secretary of state Tillerson.
— Svyatoslav Tsegolko (@STsegolko) 11 APR 2017
During a conversation Tillerson assured that the United States supports the territorial integrity of Ukraine and insist on the implementation of the Minsk agreements, in particular the ceasefire.
According to Tillerson, "Washington will not allow any batch of the agreements on the settlement of the situation in Ukraine and Syria."
In turn, Poroshenko expressed gratitude for supporting Ukraine in its struggle against Russian aggression in the Donbas and the non-recognition of the annexation of Crimea.
The Ukrainian President stressed the need to maintain sanctions until the full restoration of the territorial integrity of the country.
The parties agreed to continue bilateral consultations after a visit to Moscow Tillerson
See also:
In the Kremlin commented on the possible meeting of Putin and Tillerson
We will remind, Tillerson urged the Russian Federation to decide who she wants to be a ally with America or the regime of Syrian President Bashar al-Assad, Iran and the Islamist organization Hezbollah. Reported by the Associated Press.
Tillerson noted that it is unclear, frivolous Russia took its commitment to rid Syria of chemical weapons or was just incompetent. According to Secretary of state, the distinction does not matter much to the dead."
Earlier the journalist of "voice of America" Steve Herman reported that the meeting with Putin gone from the schedule Tillerson's state visit to Moscow. Yesterday evening, Peskov said that Russian President Vladimir Putin will not meet with Tillerson on April 12. He did not say why Putin had not planned to meet with Tillerson.
This move may indicate a growing tension between the US and Russia after the Americans struck a missile attack on Syrian air base in response to a chemical attack the Syrian government on 4 April in the town of Khan shaykhun, in which killed and injured hundreds of innocent Syrians, including women and children.
Comments
comments