Nod: Putin compared U.S. allies in NATO with "Chinese idol"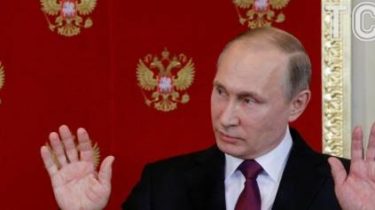 President Vladimir Putin said the lack of evidence that Syrian troops used chemical weapons. He called the allies "Chinese idol" that "nod".
About it the Russian President has declared in interview of broadcasting company "Mir".
"What was the reaction of the NATO allies? All nod, as the bobbleheads without analyzing anything that is going on. Where is the evidence of Syrian army use chemical weapons? No. And violations of international law is. It is an obvious fact. Without the sanction of the UN security Council applied to strike on a sovereign country. And despite this clear violation of international law, all agree, accept and begin to nod and support", — said Putin.
According to the Russian President, the situation is reminiscent of 2003, "when used in a completely contrived excuse for the invasion of Afghanistan."
See also:
The Herald G7: Tillerson brought Putin the collective demand of the West to hand over al-Assad
We will remind that earlier Russian President Vladimir Putin said that he was "boring" to hear the accusations against Russia and Syria in connection with a chemical attack in the Syrian city of Idlib.
"I remember in our wonderful writers Ilf and Petrov. I want to say:" it's Boring, girls – we have all seen, observed," – said Putin.
Recall that the increasing tension between the US and Russia happened after the Americans struck a missile attack on Syrian air base in response to a chemical attack the Syrian government on 4 April in the town of Khan shaykhun, in which killed and injured hundreds of innocent Syrians, including women and children.
The US President Donald trump called on "all civilized Nations" to join the United Statesto end the conflict in Syria. He said that Washington must "contain and prevent the spread and use of deadly chemical weapons," which, according to him, no doubt using the Syrian authorities.
In turn, the U.S. Secretary Rex Tillerson said that Russia was unable to fulfill its obligations 2013 to protect Syria from chemical weapons. According to him, Russia is complicitor just incompetent" because it fails to comply with the agreement on disposal of chemical weapons in the country.
The head of the Russian Federation Vladimir Putin stated that the attack violates international law.
Comments
comments