"Obama, come back." As in the Network laugh at the new rhetoric of Putin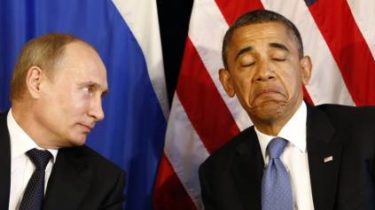 Users of social networks are actively discussing the statement of Russian President Vladimir Putin about the "degradation of the trust level" to the United States after the election of a Republican President Donald trump.
"We can say that the level of trust at the working level, especially at the military level, it has not improved, but rather degraded", – Putin said, answering the question, deteriorated relations between the two countries when trump compared to the times the presidency of Barack Obama.
See also:
From the hope of the Kremlin to the enemy. How has the rhetoric of the Russian elite to trump
The Russian leader has dramatically changed his rhetoric, and with it it was made by other Russian officials, his spokesman, Dmitry Peskov, representatives of the Russian Ministry of foreign Affairs and the odious leader of LDPR Vladimir Zhirinovsky.
Users are now laughing because of the statements of the Russian elite, but Putin's words interpreted as calls for Obama to return.
pic.twitter.com/z4sCtQqE8N
— Sanctions fruit (@Buddy_Judge) 12 APR 2017
"Putin said that relations between the US and Russia under Obama was better"

And I tell you what else Obama will put a monument and street name
— Stalingrad (@StalinGulag) 12 APR 2017
OBAMA, OBAMA , YOU BECAME dear to US, AS my own MOTHER…) pic.twitter.com/TWB2dSnbjE
— Kaxeli (@kaxelivar) 12 APR 2017
Putin said that when Obama was лучшеhttps://t.co/suamTTTQzX pic.twitter.com/0dwRZV7xD0
— Lentic (@oldLentach) 12 APR 2017
The time has come to admit that we need a new President… of the United States.
All Peskov (@Sandy_mustache) 12 APR 2017
Soon on TV will say that all the time in the hallways Ssali, Obama and trump
— Lieproof (@yporotaya) 12 APR 2017
The level of trust between the US and Russia "degraded" when trump said Putin. Here and fairy tales end. And who listened to – the audience of NTV.
All Peskov (@Sandy_mustache) 12 APR 2017
Recall, tension between USA and Russia has increased after the Americans struck a missile attack on Syrian air base in response to a chemical attack the Syrian government on 4 April in the town of Khan shaykhun, in which killed and injured hundreds of innocent Syrians, including women and children.
The US President Donald trump called on "all civilized Nations" to join the United Statesto end the conflict in Syria. He said that Washington must "contain and prevent the spread and use of deadly chemical weapons," which, according to him, no doubt using the Syrian authorities.
In turn, the U.S. Secretary Rex Tillerson said that Russia was unable to fulfill its obligations 2013 to protect Syria from chemical weapons. According to him, Russia is complicitor just incompetent" because it fails to comply with the agreement on disposal of chemical weapons in the country.
The head of the Russian Federation Vladimir Putin stated that the attack violates international law.
Comments
comments