Russia is trying to "save face" in Syria – the US Ambassador to the UN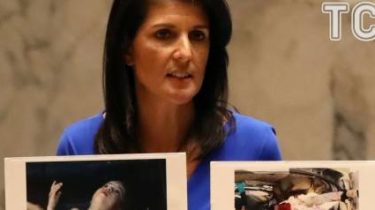 Russia is nervous due to the fact that he was in international isolation, and losing face, covering the Syrian regime and the chemical attack.
This was stated by the U.S. permanent representative to the UN, Nikki Haley, writes CNN.
"I think that, if we evaluate the facts, we see that as soon as the information appeared, they (Russia -ed) so quickly came to the defense of (regime – ed). They looked shocked, surprised. They quickly came to the defense," – said the diplomat.
"Now Russia is seeking to save face, and we provide her every opportunity to do so," said the American Ambassador.
See also:
The Pentagon argues that relations with Russia will not leave from-under control
She repeated the previously expressed position of the United States that Russia needs to decide whether she wants to interact with the international community, or continue to hold the Syrian regime.
Comments
comments