"Gopnik at the UN": the Network has ridiculed the Russian Ambassador, obrusevshih British colleges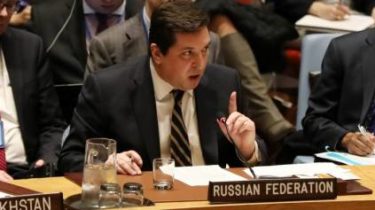 Deputy permanent representative of Russia to the UN Vladimir Safronkov taught "a lesson in diplomacy" during a debate on the situation in Syria. Turning to my colleague from the UK Matthew Reichrath, he switched to "you" and told to "not look away".
"Are you afraid, lost sleep, that we will cooperate with the United States. You're afraid of. All done to ensure that this interaction was undermined… Look at me, the eyes do not take you eye bends?" — Safronkov said, referring to Raycroft.
See also:
Russia has blocked a draft resolution of the UN security Council because of himataki in Syria
Social media users ridiculed the behavior of the Russian Ambassador. Someone calls it "the mugger", and someone nostalgic of the days of the notorious Vitaly Churkin, calling it "the height of sanity" compared to Safrankova.
Russia's UN ambassador went full gansta on his British counterpart today in New York. "Look at me when I'm talking!" https://t.co/sz2dePInSo pic.twitter.com/Hcyi3PcT0S
— The Moscow Times (@MoscowTimes) 12 APR 2017
D – diplomacy. Russia's representative to the UN spoke with quotations from Bogdan Titomir. pic.twitter.com/lKsORgaWEg
— Meduza (@meduzaproject) 12 APR 2017
So this bully video it's not photoshopped?! He really represents us in the UN?
— Anatoly nogotochki (@A_Kapustin) 12 APR 2017
What a shame we in the UN is…?
— Julie (@Funky_Juicechka) 12 APR 2017
Well you simpleton handed back? – addressed the special representative of the Russian Federation to the UN to his British counterpart
— Andreas Banderas (@a_demchenko) 12 APR 2017
You who is there representative in the UN appointed?? It's a disgrace.https://t.co/TuyeVhccmE
— Fedor Voropaev (@FVV1977) 12 APR 2017
@meduzaproject his cattle to breed, and not the UN to sit))
— Andrey (@nestcomm) 12 APR 2017
After this, in the eyes of the civilized world, Russia is once again adopted the country status Gopnik. What country, such and representative to the UN
Car Bignor (@vasperina100500) 12 APR 2017
New style of diplomacy of the Russian Federation. An excerpt from today's speech of the Russian representative to the UN Safrankova. pic.twitter.com/5HJ047p9FA
— DW (Russian) (@dw_russian) 12 APR 2017
We think, representative of Russia in UN restrained himself. In the original everything had to be so pic.twitter.com/bSpl3FOx9l
— Peskov mustache (@Sandy_mustache) 12 APR 2017
And they were lucky that the English pronoun "you" no. The Englishman is just idiocy by the manual ultrasonic inspection of hysteria in UN even could not understand.
— Pan Doktor (@pan_dok) 12 APR 2017
Comments
comments