The blockade of Russian banks is spreading in Ukraine. As protests take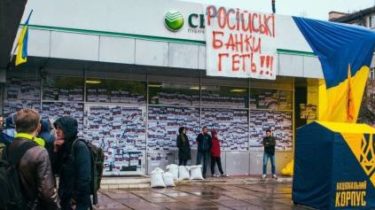 The Dnieper, Odessa, Kiev, Kharkov. In Ukraine applies the blockade of Russian banks. On Wednesday, the members of the party "national housing" held another protest against the financial institutions of the aggressor. This is stated in the story TSN.19:30.
So, in Kharkov, members of the National body was surrounded by a branch of "Sberbank" with plastic and put up signs – "this institution of the aggressor and needs to close". Here already the third day on duty, two dozen activists. For the last day – no conflict.
Decreased and the number of police. Not more than half a dozen law enforcement officers block the entrance to the Bank. The financial institution is closed, there's no one inside. Blockers say they spend explanatory work in respect of the Russian banks among the passers-by.
See also:
The NBU warned that investors may lose money due to the blocking of Russian banks
In the river the Central office of Sberbank closed a huge Ukrainian flag, and near the entrance – setting – bags and fragments of shells, next to a sign "Welcome to Russia". Thus, activists say, calling customers to collect money. Stickers with this slogan were pasted over all the Windows of the office.
"First of all, we call on the Ukrainians, ordinary citizens who put the money, perhaps not knowing this, financing terrorism and separatism, funded by Russia's aggression against Ukraine, to withdraw money from these banks," – says the Chairman of the regional headquarters of the National corpus of Denys Kotenko.
However, the Bank itself is still working. In the empty hall a few employees. They are reticent, but assure that the work is not blocked.
Comments
comments