Russia needs to stop covering the crimes of the Assad – Russia's permanent representative to the UN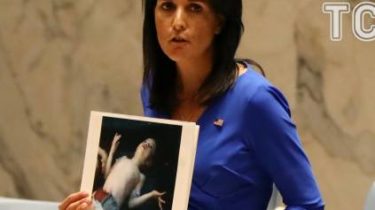 For Russia it is time to stop covering for the criminal acts of the Assad regime in Syria, including the use of chemical weapons against civilians.
This was stated by the U.S. permanent representative to the UN, Nikki Haley, writes UKRINFORM.
She stressed that Moscow finally got serious about a peaceful settlement and "to fulfill its obligations on withdrawal of chemical weapons from Syria".
Russia should also use its influence to Assad abides by its international obligations. This means access for observers, who have the mandate to all databases, where the mode began their chemical attack, said Haley.
"As we stated last week, we will not tolerate repeated use of chemical weapons. We will not tolerate such actions of the Assad regime," – said the American diplomat.
Gailey expressed his firm belief that the political process might work, despite serious obstacles.
According to her, USA "looking for partners who have a serious approach to using its influence on the Assad regime", including in order to overcome the IG and achieve in Syria sustainable peace.
See also:
Russia will veto the new draft resolution of the UN security Council on chemical attack in Syria
Recall that Russia is nervous due to the fact that he was in international isolation, and losing face, covering the Syrian regime and the chemical attack.
This was stated by U.S. permanent representative to the UN, Nikki Haley.
We will remind, us destroyers USS Porter and USS Ross night of April 7 was released 59 missiles on the airfield Syrian government forces Shirt. In the result , six people were killed, said the Ministry of defense of Syria. The operation was conducted in response to a chemical attack the Syrian government on 4 April in the town of Khan shaykhun, in which killed and injured hundreds of innocent Syrians, including women and children.
The head of the United States Donald trump called on "all civilized Nations" to join the United Statesto end the conflict in Syria. He said that Washington must "contain and prevent the spread and use of deadly chemical weapons," which, according to him, no doubt using the Syrian authorities.
In turn, U.S. Secretary Rex Tillerson said that Russia was unable to fulfill its obligations 2013 to protect Syria from chemical weapons. According to him, Russia is complicit, or just "incompetent" because it fails to comply with the agreement on disposal of chemical weapons in the country.
The head of the Russian Federation Vladimir Putin stated that the attack violates international law.
Comments
comments