Detailed and Frank talks: Lavrov commented on the meeting with Tillerson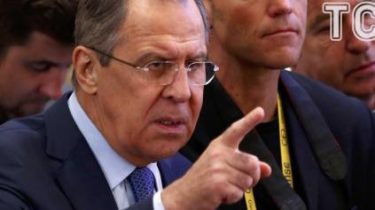 The Minister of foreign Affairs of Russia Sergey Lavrov called the talks in Moscow with his American colleague Rex Tillerson "thorough and Frank".
About it reports RBC.
According to Lavrov, the meeting discussed the situation in Syria and attack the United States. Lavrov urged an investigation into the incident. Also the head of the Russian foreign Ministry noted that Russia and the United States have a common interest in achieving a political solution to the Syrian crisis. According to Lavrov also discussed the joint fight against international terrorism.
The head of the Russian foreign Ministry noted that Russian President Vladimir Putin confirmed that Russia is ready to return to the application of the Memorandum with the USA on the prevention of incidents in Syria. The Memorandum was stopped by the Russian side after the missile strike, the U.S. air base in Syria in response to the chemical attack in Idlib.
According to Lavrov, with all the amount of problems in relations of Russia and the USA there are many prospects for dialogue. "And Russia, this dialogue is ready," Lavrov concluded.
See also:
Lavrov commented on the "ultimatum" from Tillerson
Recall that Lavrov met Tillerson ice observations from the strike on Syria. Impressions of the meeting shared Reuters.
We will remind, Tillerson urged the Russian Federation to decide who she wants to be an ally with America or the regime of Syrian President Bashar al-Assad, Iran and the Islamist organization Hezbollah. Reported by the Associated Press.
Tillerson noted that it is unclear, frivolous Russia took its commitment to rid Syria of chemical weapons or was just incompetent. According to Secretary of state, the distinction does not matter much to the dead."
Earlier the journalist of "voice of America" Steve Herman reported that the meeting with Putin gone from the schedule Tillerson's state visit to Moscow. Yesterday evening, Peskov said that Russian President Vladimir Putin will not meet with Tillerson on April 12. He did not say why Putin had not planned to meet with Tillerson.
This move may indicate a growing tension between the US and Russia after the Americans launched a missile attack on the Syrian air base in response to a chemical attack the Syrian government on 4 April in the town of Khan shaykhun, in which killed and injured hundreds of innocent Syrians, including women and children.
On the eve of visit to Russia Tillerson spoke by phone with Ukrainian President Petro Poroshenko.
Comments
comments