In Kiev opened an alternative to the Russian Embassy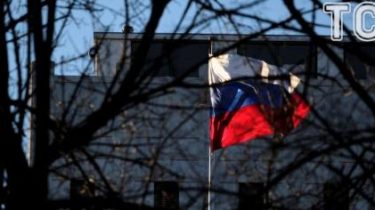 Yesterday, April 13, in Kiev, presented an alternative Embassy of the Russian civil society in Ukraine, "the House of Free Russia".
This is stated on the project website.
In particular, the "House" is an open platform for dialogue and research about Russia, Russian-Ukrainian relations, the conflict in the Donbas and the annexation of Crimea.
The project was created for immigrants and refugees from Russia to Ukraine, the Russian Diaspora in Ukraine and Eastern Europe.
The Public Council alternative of the Embassy, representatives of a number of Ukrainian public organizations and Russian Diaspora and journalists, including: journalist Yevgeny Kiselev; a political scientist, a political refugee, Mikhail Savva; head Crime Tamil tacheva; journalist Hromadske.ua Ekaterina Sergatskova; political analyst Andrey Kruglashov, head of the International Helsinki Association Daniil Meshcheryakov, and chief editor of the Review of Odessa Vladislav Davidzon.
See also:
The leader of the Ukrainian Diaspora in Russia, Poroshenko asked to help with the work
In "the Embassy" will also include humanitarian infoproekt EmigRussia.org as well as the project "Words of Freedom" that helps to send letters to political prisoners in Russia.
It is noted that the "House" operates with the assistance of the European Endowment for Democracy and the Foundation of Boris Nemtsov for Freedom.
We will remind, the third anniversary of the annexation of the Crimea outside the Russian Embassy in Ankara, Turkey held a protest action. It was organized by the Association of NGOs of Crimean Tatars, reports Anadolu news Agency. The action was attended by dozens of ethnic Tatars living in various regions of Turkey.
According to the head of the Association of Tuncer Kalkan, Crimea and Crimean Tatars will never accept the occupation and protests against the annexation of the Peninsula will continue.
Comments
comments