Savchenko headed the new party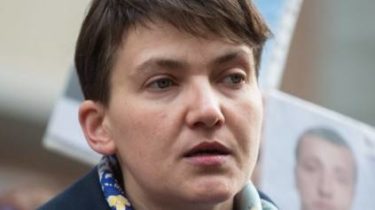 The people's Deputy Nadezhda Savchenko who was expelled from IN "Batkivshchyna" for a mismatch of "principles and political beliefs, led the party "national Alliance of freedom and Ukrainian patriotism "Stepping", which was renamed the "Civil platform of Hope Savchenko".
She told about that to journalists, UNIAN news Agency reports.
"This party was the beginning of the Lviv – "national Alliance of freedom and Ukrainian patriotism". I was elected Chairman of the party, and we changed the name of the party, because I signed his name – has made a party named after himself, as you say, and put my name to this party, and now she will be called a political party "Civic platform of Hope Savchenko", – she explained.
According to Savchenko, the purpose of the party is "changing the political system."
MP also said that in the party there are people who "was in this Parliament or were in power during those 25 years, but older."
"They can learn not to make mistakes, not to repeat their mistakes those new people who will be going to change this government. I could invite to join this platform and to register these changes, Viktor Shishkin, Theodore Dacia could call Sergey Gaidai" she said.
We will remind, earlier in Kiev on the street Dreiser, 4, car of people's Deputy Hope Savchenko, at the wheel which was her sister, Faith, was hit by an elderly woman.
Comments
comments