Zakharchenko offered to "reshape" the Ukraine, and predicted the bloody chaos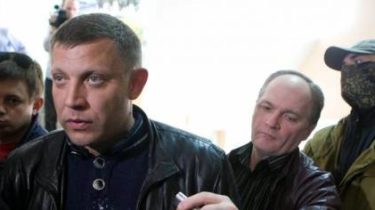 The leader of terrorists "DNR" Alexander Zakharchenko said about the need for "restructuring of the Ukrainian state" after the war in the Donbass.
His fantasies, he announced the so-called straight line which was broadcast in text mode site of the militants.
Zakharchenko had received an offer from an unnamed "resident of Zaporozhye," the new arrangement of the Ukraine to the borders of the former USSR.
See also:
The illusion of statehood. Why Zakharchenko came up with "state border" between "DNR" and Ukraine
"After the war do need a broad debate, which must be resolved by reorganization of the state and even a new arrangement of the space that was previously occupied by the USSR", – said the chief terrorist-occupied Donetsk.
He spoke about giving to Russian of the status state in Ukraine, the creation of the Confederation and the introduction of dual citizenship.
Zakharchenko predicted Ukraine "struggle of all against all".
"I also see the struggle of all against all and chaos. Perhaps bloody. If it is to leave everything as is and just wait on the sidelines. Schadenfreude for this reason I don't have any, if anyone thought so. On the contrary, there is a concern. You know, drunk and disorderly neighbors, in which we ourselves in danger just because we are close. And with Ukraine," – said "Dnrovets".
He added that theoretically ready to help "restore order" if asked to do so.
"Theoretically, we can assist the people of Ukraine in restoring order; we maybe will do, only if we call. And to direct the order we have learned," concluded Zakharchenko.
We will remind, earlier the leader of terrorists "DNR" Alexander Zakharchenko has proposed a ban on entry in the occupied Donbas fugitives, Viktor Yanukovych and Mykola Azarov, as well as their henchmen, and called the former officials traitors.
Comments
comments