In the US, the lizard became a COP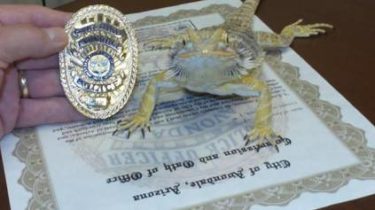 Police Department city of Avondale, Arizona, took the lizard.
They reported about it on its own page on the social network Facebook.
Bearded Agama named iroh took the oath and even got a badge.
Reptile went to the police to discover the scents of some types of drugs. Note that these lizards have a keen sense of smell and will be able to help in the search of prohibited substances are better than dogs.
See also:
Lizards change sex because of global warming
Earlier, in the U.S. state of Pennsylvania cat named Baby made friends with a bearded lizard Charles.
According to the owner of the animal Cheyenn March, she was worried that her Pets would not find a common language and will not be able to live in the same house. However, they become friends and spend a lot of time together.
Comments
comments