The national Bank has decided how much billion hryvnias will be transferred to the state budget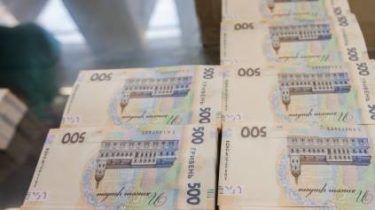 In the near future the national Bank of Ukraine transferred to the state budget 44 billion 378 million 828 thousand 945 UAH 50 kopecks. At the same time, in budget 2017 recorded that this amount should be not less than 45 billion UAH.
The decision on profit distribution controller for 2016 approved by the NBU Council, said its Chairman Bogdan Danilishin on his page in Facebook.
Also approved annual financial statements with the corresponding auditor's report of the company "Deloitte & Touche USC", which will be announced on the website of the national Bank.
In General, the profit of Bank for last year amounted to 59 billion 450 million 568,5 thousand UAH. Almost 44.4 billion of which will go to the state budget, 15 billion 71 million on the formation of General reserves capital the national Bank.
"Like last year, profit distribution to the state budget will be transferred in several tranches during the year, thus to smooth the effects of changes in the amount of governmental funds to fluctuations of liquidity in the banking system and to achieve the inflation target of the National Bank (8% +/- 2 percentage points at the end of 2017 and 6% +/- 2 percentage points at the end of 2018). Now the schedule listing gains to the state budget is coordinated by the National Bank and Finance Ministry", – noted in the NBU.
Last year the NBU transferred to the state budget billion UAH 38,16 its profits for 2015.
We will remind, the national Bank's assets last year grew by more than 91 billion UAH.
Comments
comments