Conversation leaders "Channel four" could be the last in this format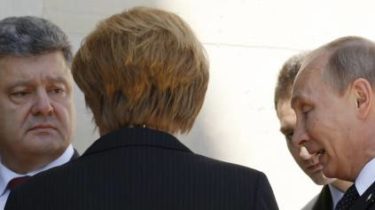 Telephone conversation of the leaders of "Norman Quartet" could be the last in this format, because Francois Hollande has not put forward his candidacy for the French presidential election that will start on April 23. This is stated in the story TSN.19:30.
"Normandy" for Ukraine was born in the French Normandy, it was under the presidency of Hollande. The format originated soon after the outbreak of hostilities in the East in the summer of 2014. The first meeting took place during the celebrations of the seventieth anniversary of the allied landing on the French coast during world war II.
See also:
Klimkin explained when the can held a meeting of leaders "Norman Quartet"
Then Poroshenko and Putin as presidents met for the first time. Among the dozens of shots of handshakes – their joint to fix and failed. And soon the world saw the photo of "hateful glance".
At the same time, the Ukrainian President without details admitted Merkel, Hollande and Obama has provoked him to talk with the head of the Kremlin.
"Of course, the mood was tense. It is good that the dialogue has begun," he said.
The dialogue at the level of presidents and heads of foreign departments was now ten times. Often so suddenly that the cook had a meeting in the last hours. Sometimes, it told journalists on the sidelines, behind the closed doors of diplomatic conversation, the cry of frustrated. And full swing at this time, not only in the offices. While officials talked about resolving the situation in Eastern Ukraine and the implementation of the Minsk agreements in the Donbass did not cease hostilities.
However, the Normandy format, all parties to the negotiations called the best option dialogue. Now the intrigue remains the question: is it France after Hollande or four will become three. Although the latter is unlikely – said the representative of Ukraine in the Minsk group Irina Gerashchenko.
"This is not a position Germany or France. It is the position of the EU posed by the country leaders of the European Union. Format to be determined," she explained.
To involve negotiations, the United States – that during his visit to Kiev, hinted the Minister of foreign Affairs of great Britain, Boris Johnson. However, his Ukrainian counterpart then immediately said: this question only at the stage of preliminary discussion.
The TSN reporter Liudmila Badalyan.
Recall President of Ukraine Petro Poroshenko, German Chancellor Angela Merkel, French President Francois Hollande and Russian President Vladimir Putin discussed by telephone the situation in the Donbass in the night of April 18.
A telephone conversation is that the usual channel four was not only a cease-fire. Discussed the issue of prisoners – exchange "all for all".
Comments
comments