Ukraine vs Russian Federation. The court in the Hague to announce its verdict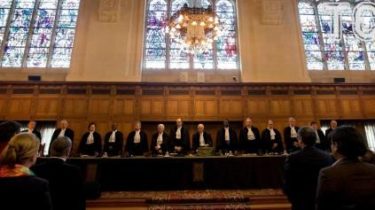 Ukraine against Russia in the International court of justice – today, April 19 in the Hague will announce the verdict with the provisional measures against Moscow. This is stated in the story TSN.Night.
The Ukrainian foreign Ministry said that the victory will be considered acceptance of any restrictions against Russia. However, said that according to procedure, the court may require changes to and from Kiev, in particular, to feed Russia, require to deal with the volunteer battalions.
The international court of justice will announce a verdict in three hours local time, it will be 16.00 in Kiev. We are talking about the interim decision in the case of Ukraine against Russia — the court will decide whether temporary measures against Russia.
See also:
The lawsuit against Russia. What are the chances of Ukraine in the Hague court and pay Putin for his sins
Ukraine accuses Russia of violating several UN conventions — first and foremost the Convention on the suppression of the financing of terrorism.
According to Kiev, under the accusation falls within the support of Moscow militants in the Donbas — six articles of the 28 here could be broken. It and operations groups and providing safe haven to militants on its territory, involvement in the deaths of civilians — in particular to the crash of flight MH-17.
Also, Ukraine is trying to prove that Russia has violated the Convention on the elimination of racial discrimination. We are talking about the Crimea, where the Russian government pursues the Crimean Tatars and Ukrainians, prohibits the Majlis, the media, intimidate and arrest activists.
Recall, the court began proceedings on 6 March and after four days of hearings, proceeded to consider interim measures against Russia. They can include the demand to stop funding militants to regain control over the border to the Ukrainian government to respect the rights of Crimean Tatars and Ukrainians in Crimea. Russia denies the chargesand experts predict a further consideration of the merits can take years.
The Correspondent Of "Radio Liberty" Grigory Zhigalov.
Comments
comments