Only the rule of force. Poroshenko said about the disinterest of the Russian Federation to achieve peace in the Donbas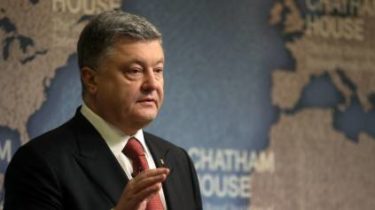 The conversation between the leaders of "Norman Quartet" reaffirmed Russia's unwillingness to reach peace in the occupied Donbas. This opinion during a speech at the Royal Institute of international Affairs "Chatham house" in London was expressed by the President of Ukraine Petro Poroshenko.
According to the guarantor, the negotiations were further proof that the Russians promise, but not fulfill agreements.
"On Monday, when Chancellor Merkel and President Hollande had a telephone conversation with Russian President, I felt it (the lack of Russia's interest in achieving peace – Ed.). It was yet another confirmation that the Russians promise, but do nothing, and we saw: if you want peace, you can have it, but only on our terms. No compromises, only the rule of force", – UNIAN cites a quote Poroshenko.
We will remind, in the night of 18 April, the President of Ukraine Petro Poroshenko, German Chancellor Angela Merkel, French President Francois Hollande and Russian President Vladimir Putin discussed by telephone the situation in the Donbass. This communication could be the last in this format "Norman Quartet", as the French leader has not submitted his candidacy to the presidential elections, the first round of which will take place on April 23.
The conversation touched not only cease firing. Discussed the issue of prisoners – exchange "all for all".
Comments
comments