Matios finally explained who visited in "Feofaniya" is Nasirov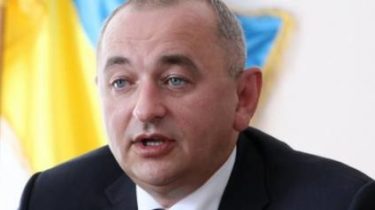 In the hospital "Feofania" chief military Prosecutor Anatoly Matios was visiting my sister, who was lying in the next room with the suspended head of the GFS Roman Nasirov. This Matios said in an interview to Ukrainian truth.
"In "Feofaniya" I came because an hour before that, my sister of the Verkhovna Rada was taken to the intensive care unit, and she was lying in the next room with Nasirov. I was flying there to deliver medications, without which it could not reanimate. Now I can say it – because she was discharged from the hospital, and all is well", – he explained.
Matios said that he did not want then to explain where he is going, because worried about my sister's condition.
"If people are so vile, then let each pass through the intensive care unit. Sorry, I don't care what they say where I'm going. Any hospital is not the territory of NABOO, ARS, prosecutors or anyone else. I came as someone who had an urgent need. To explain at that time, I had no right taking into account of man, for then in the evening I had another man in intensive care is my mother," he added.
According to Matios, heads of departments, who are investigating the case Nasirov, knew why he went to the hospital, but did not clarify the situation to anyone.
See also:
Matios declared a gift from the wife worth 700 thousand UAH
"Because when I went to the emergency room, I immediately called Sytnik, and I explained it to him. He said, "I'm Sorry, I understand." They [Maria Matios and Roman Nasirov – Ed.] it was "wall to wall", – he said.
Also Matios in the hospital met the journalist Sonia Koshkin, who was also convinced that the officer came to visit Nasirov.
"She before said, I want to see how you'll come to Nasirova. I took her with me. And we went into the room where the doctors were doing resuscitation my sister. She [Sonya Koshkina – Ed.] turned pale and said nothing," – said Matios.
We will remind, earlier it was reported that Matios refused to explain the purpose of his visit in "Feofaniya", when there lay the detached head of GFS Roman Nasirov.
"I am a living man, I may be sick. I don't have anyone. I haven't dopustila the end of the week to confess. Today is the fifth day of fasting. I will go adequately, as required, to atone for their sins and confess" – he concluded then.
Comments
comments