The court in the Hague has introduced temporary measures against the Russian Federation for the financing of terrorism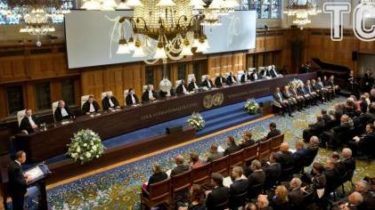 The international court of justice in the Hague rejected the request of Ukraine on preliminary measures against Russia because of its violation of the International Convention for the suppression of the financing of terrorism.
This was announced at a public hearing in the Hague the President of the Court, Ronnie Abraham, reports of Public.
He stressed that Ukraine must prove that "the requested provisional measures must stop the irreparable damage, as well as the intentional actions of a state party to the Convention."
However, the court found that this requirement was not fulfilled.
In particular, Ukraine accuses Russia of violating several UN conventions — first and foremost the Convention on the suppression of the financing of terrorism.
According to Kiev, under the accusation falls within the support of Moscow militants in the Donbas — six articles 28-we are here could be broken. It and operations groups and providing safe haven to militants on its territory, involvement in the deaths of civilians — in particular to the crash of flight MH-17.
See also:
The court in the Hague to announce decision on the claim of Ukraine against Russia. Online stream
Recall, the court began proceedings on 6 March and after four days of hearings, proceeded to consider interim measures against Russia. They can include the demand to stop funding militants to regain control over the border to the Ukrainian government to respect the rights of Crimean Tatars and Ukrainians in Crimea. Russia denies the chargesand experts predict a further consideration of the merits can take years. The Kremlin said that recognize the decision of the International court of justice in the Hague in the case against Ukraine.
A lawsuit in the Hague Ukraine filed January 16, 2017.
Ukraine in the framework of the lawsuit against Russia asked the international court of justice to impose interim measures aimed at preventing the continuation of human rights violations by the Russian Federation in the period of adjudication of the merits with the aim of protecting the civilian population in the temporarily occupied Crimea and Donbas.
Comments
comments