In the "popular front" believe groundless charges against Martynenko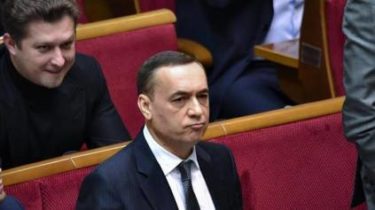 In the "popular front" believe selective justice the detention of former Deputy Mykola Martynenko.
This is stated in the statement of the party.
In particular, the force believes that this detention is "a sign of selective justice and politically motivated actions of anti-corruption bodies".
It is also noted that the case against Martynenko NABOO "is trying to falsify and a half years and no evidence against him was never found".
"People's front" says that the detention Martynenko needs later to be the judge of Solomyansky district court of Kiev Bobrovnik, who, according to the party, is on the hook for NABOO.
"Today, the leaders of NABOO using this issue (detention) to switch attention from the failures in their work because society anti-corruption Bureau have a lot of questions because of the inefficiency and political motivation. At large remain supporters of Yanukovych, who plundered the state. NABOO refused to return the money of Yanukovych – for this reason our group has repeatedly officially appealed to the Bureau. Instead, NABOO is attacking the policy consistently with the Ukrainian and anti – Russian position," – said the political parties.
In the political stress that Martynenko will not hide and will prove his innocence and the involvement of the NAB in court.
"Popular front" requires an objective investigation independent of the court, and immediate removal of a judge of Bobrivnyk.
See also:
Martynenko was detained and taken to NABOO
We will remind, ex-the people's Deputy of the Verkhovna Rada Mykola Martynenko was detained. Before that, a member of the public Council of NABOO and Autoimager activist Alexey Gritsenko said that the detective of the National anti-corruption Bureau attempts to deliver a notification on suspicion Martynenko, but he is hiding.
December 22, 2015, the Supreme Council adopted a decision Martynenko on the resignation of the Deputy mandate after the scandal charges of bribery in the amount of 30 million Swiss francs.
Yes, journalists of the Swiss newspaper SonntagsZeitung, found that Martynenko is suspected of receiving bribes in the amount of 30 million francs, which was blocked on Bank accounts in Switzerland Hottinger. There guide financial institutions noticed a suspicious transaction and complained to the police. Later, the Prosecutor's office of Switzerland confirmed the information on a criminal investigation in the case.
Comments
comments