There is no calculations. Korczak could not explain, for which he received a monthly salary of 400 thousand UAH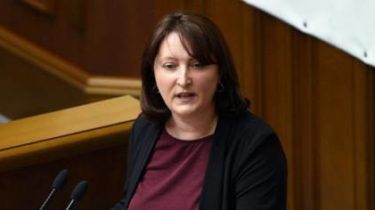 The head of the national Agency for prevention of corruption Natalia Korchak are unable to explain why in December 2016 has received 400 thousand hryvnias of a salary.
During a meeting of the anti-corruption Committee, people's Deputy Serhiy Leshchenko asked the official why she twice declared salary in the section "changes in property status".
According to the electronic register, December 7, Korczak declared salary in the amount of 266 thousand UAH 816, and 29 December – 217 123 thousand UAH, that is, a total of nearly 400 thousand hryvnias.
See also:
"Even today": Korczak said it was willing to resign from the NACP
The MPs asked Korczak to explain what this means – "the thirteenth" salary or bonus.
"It's total comprehensive income, which consisted of the holiday", – quotes "Ukrainian truth" quote Korczak.
She stressed that this is not the prize.
"The prize of 200 thousand hryvnias have not been, only in July and September was assessed a prize for all members of the NACP in the amount of 250%. Since December of the month award were not charged," – said the head of the NACP.
The question Leshchenko, what else but vacation is included in this amount, Korczak could not answer: "I Have no calculations now."
The publication notes that her answer caused laughter and confusion among the members of the Committee.
Recall that the national Agency has been widely criticized as inappropriate operation of the registry for declarations that at the end of the deadline for reporting was not working for several days. On the eve of the deadline, April 1, when should be registered with all the electronic declarations of officials, the system again failed. Prime Minister of Ukraine Volodymyr Groysman called on the head of the NACP Natalia Korchak and other members of the Agency to resign. in turn, Korczak declared that is not going to resign.
Korczak was summoned to a meeting of the Parliamentto report on their work.
During a speech in Parliament, she admitted she has written a prize in 200 thousand UAH.
Comments
comments