There was a video of the arrest Martynenko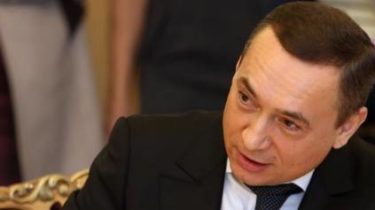 "Scheme" has posted a video from the place of detention ex-the people's Deputy Nikolay Martynenko staff of the National anti-corruption Bureau.
The footage men derive policy from the building and put in a van. The arrest Martynenko held at the address: Klovsky Uzviz 7a (business Carnegie center), where is the office of the party "people's front" and foster the people's deputies of this political force. The former MP was lucky to NAB.
See also:
In the "popular front" believe groundless charges against Martynenko
The arrest Martynenko confirmed his lawyer Igor Cherezov and Secretary Desk Darya Manzhura. Earlier it was reported that detective NABOO tried to give the former lawmaker a message of suspicion, but he supposedly was hiding out in the office of MP.
Recall, December 22, 2015 the Verkhovna Rada adopted the decision Martynenko on the resignation of the Deputy mandate after the scandal charges of bribery in the amount of 30 million Swiss francs.
So, journalists of the Swiss newspaper SonntagsZeitung, found that Martynenko is suspected of receiving bribes in the amount of 30 million francs, which was blocked on Bank accounts in Switzerland Hottinger. There guide financial institutions noticed a suspicious transaction and complained to the police. Later, the Prosecutor's office of Switzerland confirmed the information on a criminal investigation in the case.
Comments
comments