Holodnitsky told about the procedure of investigation of the case.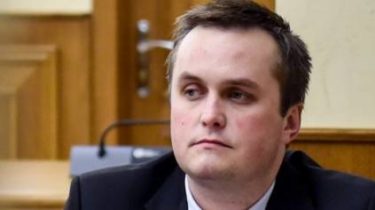 Detectives have collected enough evidence to declare a suspicion to the former people's Deputy of Ukraine Mykola Martynenko.
About this TSN said the head of the Specialized anti-corruption prosecutors Nazar Golodnitsky.
"We are now undergoing a stage of the criminal process – each production has four stages: the beginning, the announcement of suspicion, drawing up of the indictment and the verdict. We are now in the second stage of the four. This message is specific to the person about suspicion. Before this was the case on fact of committing a crime. Prosecutors and detectives of the anti-corruption Prosecutor's office was looking for an individual who has committed a crime that rassledovaniia", – he said.
See also:
"No rats, cockroaches": Martynenko told how he spent two nights in jail Lukyanovka
According to Golodnitsky, this week, detectives finished gathering evidencethat was needed to declare suspicions Martynenko. Now given two months to complete the investigation and forward the case to the court.
"To date the evidence gathered. Production was investigated more than a year, as many were involved in the effort. Because these things are not simple. This is not a simple matter of stealing a pack of cigarettes. This case is schemes, they are bulky. This is an international order in eight countries. More than 10 international assignments. Expectations. Unfortunately, international law is not so fast. Some of the instructions that we sent back in March of last year, we received responses in January last year", – said the head of the Specialized anti-corruption Prosecutor's office, which acknowledges that it may not require from foreign partners to act faster. "We just have to wait. It is international law. And when the detective got the last instructions, when performed the last investigative actions (they were made on April 18), then the issue was resolved on the approval of the Prosecutor suspicions," said Nazar Golodnitsky.
See also:
Two accused of the case Martynenko already fled abroad – SAP
He recalled that the anti-corruption Prosecutor's office could not be guided by sentiment in social media, gathering likes. "Collect 10 thousand and go to court. We must have an evidence base. And we, together with the detectives NAB this database is collected," stated Holodnitsky.
See also:
The court released the defendant in the case Martynenko Fracture on bail of people's deputies
We will remind, Mykola Martynenko after two sleepless nights in detention a preventive measure – personal guarantee of people's deputies and Ministers. Prosecutors intend to appeal the judge's decision. On remand, Martynenko will stay until June 20. During this time, prosecutors shall complete the investigation and forward the case to the court.
Comments
comments